Curating the Web
My project this Sunday — an easy enough one, as it turns out — was to install Tiny Tiny RSS on my DreamHost shared server.  Ta-da: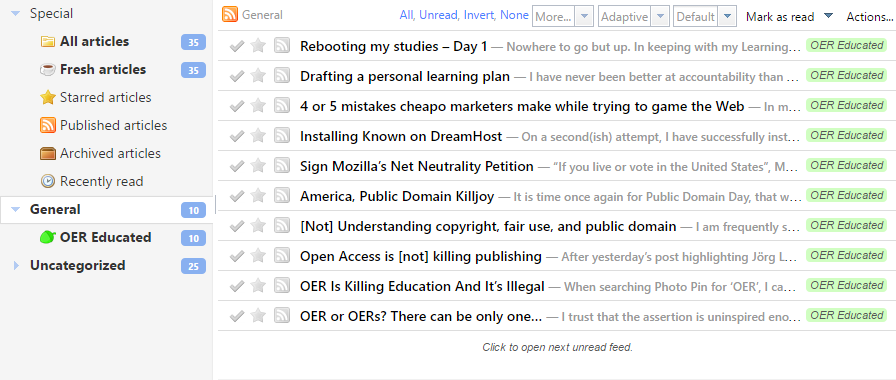 When you are trying to eat better, you can stack the deck in your favor by not having junk food easily available while purchasing healthful and convenient food — and finding ways to make it as easy as possible to choose the good stuff. Curating your pantry, if you will.
With the Web, avoiding "junk food" is comparatively more difficult, unless you want to lock down your browser. Curating good content, however, is not especially difficult at all; you can use tab groups, bookmark folders, shortcuts, and so forth. You can also use the trusty old feed reader.
I have used a number of readers both personally and professionally, including Google Reader (then Currents, then Newstand), The Old Reader, browser-based feeds, and even the TT-RSS Chrome extension. All of them have provided only limited success, because I never got into the habit of using them daily. Even so, I appreciate the utility of a good feed reader. As big, open, and discoverable as the Web is, if left purely to my own devices, I typically end up checking the same five or six sites. When I seem to run out of the good stuff, reaching for the bad stuff is a likely next step.
The choice of reader is important. Many modern readers focus on bright, beautiful tile displays . They are visually engaging, with a major focus on images. They are ideal for certain kinds of content, but when you need to be able to quickly scan a few dozen titles/headlines from different sources and determine what to read and what to leave behind, the utility of these photo-forward readers vanishes. That is why, as Google dropped its Reader and moved rapidly in the direction of a Feedly analogue, others have been hard at work resurrecting Reader in various guises, including The Old Reader.
For my latest attempt to curate my online life, I have chosen Tiny Tiny RSS, which has been around for a decade or so. It is clean, simple, and I have some existing familiarity with it. I also wanted something open source and installable on basic shared hosting, for two major reasons: (1) getting the thing up and running would be a fun project; (2) having an instance all my own might inspire greater attention and use.
Installing Tiny Tiny RSS on DreamHost
This turned out to be surprisingly easy, taking maybe 25 minutes from end-to-end, using this simple recipe:
Ingredients:
An FTP client (like FileZilla)
An editor + FTP client (like NotePad++)
Steps:
I took the easy road from the installation notes and downloaded the master branch from GitHub as a .zip file, then unpacked it to a new directory.
I used FileZilla to created a new directory under my primary domain and FTP'ed all the TT-RSS files to that directory.
I created a new MySQL database and user via DreamHost.
I used the link provided in the install note to run the automated installer, which was able to access and initialize my database and spit out contents for a config.php file.
Given a choice, I elected to create my own new config.php file from the provided information.
The remainder of the directions deal with changing the admin password, creating a non-admin user for daily use, etc.
Navigating the preferences for Tiny Tiny RSS, like almost any software, takes some getting used to; the best way, in my opinion, is simply to click around and gradually become oriented. Simple Web and forums searches quickly solve specific problems.
And I did have one: attempts to save changed preferences were failing, behavior which did not occur in an incognito tab. It turns out that, as noted in the FAQ, one of my browser extenstions was causing some problems. Someone in the TT-RSS forums offered a simple solution, which worked just fine.
What now?
What now, indeed. Hopefully, I pull together a good a useful slate of feeds to keep my mind well-fed. Maybe I play with some of the included features such as the ability to "publish" articles in my feeds, which effectively nominates them for inclusion in a public RSS feed — basically, a public favorites list that could then, say, help to populate this blog, a "reading room", or just feed into some other RSS client like Pocket or Google Newstand or whatever.
Time will tell.